Hello,
I'm new to this forum, but not to the bike [FZ-07].
For sale is a brand-new (never installed) Traxxion Dynamics fork damper rod and spring kit for the FZ-07. The kit is setup for a 195 lbs (+/- 15) street rider
in gear.
So it would work for a rider in gear between 180-210 lbs, gear typically weights 10-15 lbs. If you have questions please let me know.
Asking $300 shipped conus
, will throw in a brand-new fork seal kit with the deal. My feedback can be seen on:
eBay
and
Bimmerforums
.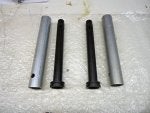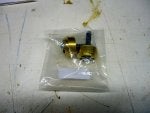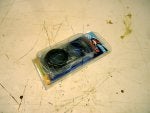 Taken from TD's site:
Check out our Damper Rod and Fork Spring Kit! It comes with two precision CNC machined damper rods, and have all of the normally tedious drilling, deburring, and braizing required to install Race Tech Emulators in your forks already complete! These rods are machined to fit more tightly in the bottom of the fork tube so you won't have to run thick oil which is dramatically affected by temperature. This is a major drawback when using a modified stock damper rod because it forces the use of thicker fork oil.

Included in the kit is a pair of 4101 Emulators, that mate perfectly to the rods with no further machine work required. With these rods, you can do a fork upgrade in a fraction of the time it used to take.

A pair of high quality Traxxion Dynamics Fork Springs, precut fork spring spacers made from aircraft grade lightweight aluminum tubing are included as well. We tailor the spriings and spacers to your weight and intended use to make it a complete package.