Asking $5,500.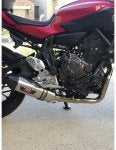 2017 Yamaha FZ-07 ABS. Beautiful FZ with 1083+ miles ridden by little old man. Runs better than new with mods & has been meticulously maintained with nice upgrades. Oil changed at 200 miles, 400 miles then Dealer service at 600 miles. Oil changed again at 800 miles and 1000 miles. Note: bike is being sold with a SW Motech rear luggage rack ($200+) in place of the OEM pillon soft seat & rear foot pegs have been removed. Other add-ons:
Yoshimura full exhaust system – amazing
BMC Air Filter – recommended by Yoshimura
Fuel Re-Map – By 2 Wheel Dyno Works ("2WDW") – Wow!
R&G Frame Sliders – don't use these…
R&G Radiator Guard – must do item
R&G Rear Foot Peg Blanks – tidy up
R&G Headlight Protector – save your headlight
SW Motech Rear Luggage Rack – pricey add-on!
Puig Touring Windscreen - nice on the long haul
Puig Rear Brake Resevoir Protector - nice
Yoshimura Tail Tidy – I did the work for ya
MZS Levers – affordable but effective
Front & Rear Stand Spools – lift easy
Engine Ice - cool things down; radiator flush & replace @ 800 miles
No trades & don't need help selling. Thanks for looking.